KILIMANJARO CLIMBING UMBWE ROUTE
One of the seldom used these days Umbwe route as an ascent to the fact that it has probably the steepest initial climb, and as one of the least developed of the main trails is given on occasions to be a rough scramble over tree roots and sleeper gradients.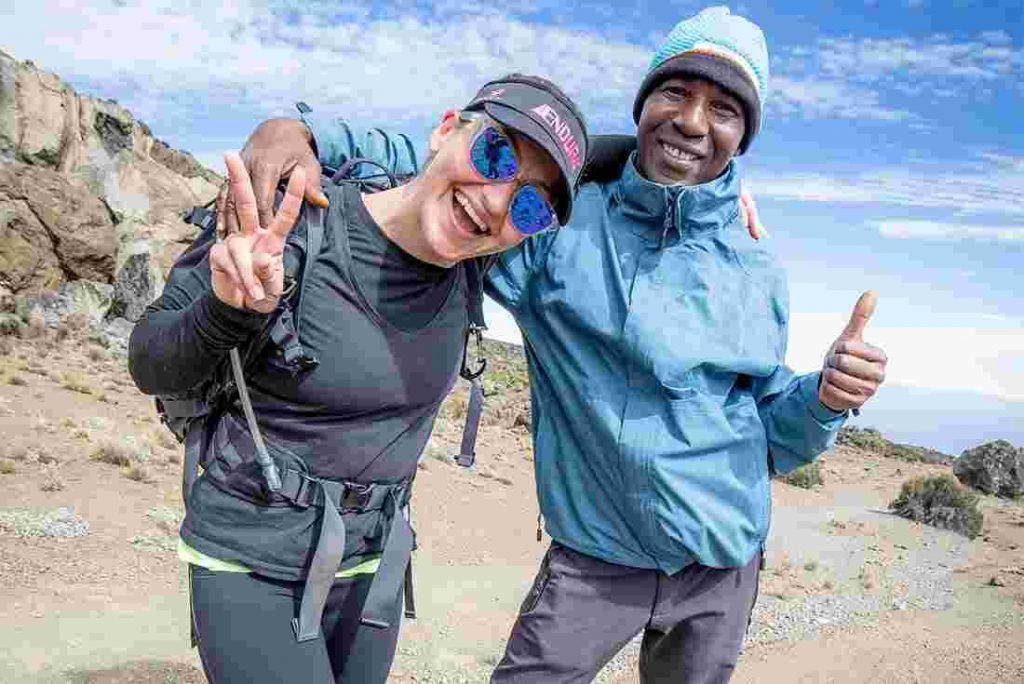 On your climb to Barranco Camp the trail is direct and unrelenting, and is about as close as Kilimanjaro comes to a technical climb. The upside of choosing Umbwe route is that, apart from the odd party opting for this trail as a climbing party, and the views from the Umbwe trail, in particular on the second day as you traverse a narrow ridge in the heather fields, are second only to the vistas that spread forth from the summit.
UMBWE GATE (1661 M/5449 FT.) TO UMBWE CAVE CAMPSITE (2,850 M/9,350 FT.)
Elevation change: Hiking time: 5hours Estimated distance: Habitat: Montane Forest After breakfast you will be driven to the Umbwe Gate at 1661 m/5449 ft. passing through village with coffee and banana plantations. On arrival at the Park Gate your Guide and Porters will meet you. Sign the register before you enter the park for your first step to accomplishing a life-long dream. The air is thick with moisture and the path is usually muddy. The route initially follows a forestry track winding up through the natural rain forest. It then narrows and steepens to climb the ridge between the Lonzo and Umbwe rivers, with huge trees surrounding you. The path offers some spectacular views of deep gorges and if you are lucky, glimpses of Kilimanjaro towering above you in the distance. The camp is perched between huge trees and thick undergrowth.
UMBWE CAVE CAMPSITE (2,850 M/9,350 FT.) TO BARRANCO CAMP (3985 M/13,074 FT.)
Elevation change: Hiking time: 6 hours Estimated distance: Habitat: Montane forest and Moorlands. Shortly after leaving the camp, the forest starts thinning and is replaced by rockier terrain, sparser undergrowth and straggly, moss-covered trees. The path continues along a narrow, but spectacular ridge. As you gain higher altitude, catch glimpses of Kilimanjaro rising majestically ahead of you - etched against the blue sky. The path flattens as you approach Barranco Valley. From the Umbwe ridge the route descends slightly to the Barranco camp. The camp is situated in the valley below the Breach and Great Barranco Wall, which should provide you with a memorable sunset while your dinner is being prepared.
BARRANCO CAMP (3985 M/13,074 FT.) TO LAVA TOWER (4600 M/15,091 FT.) TO ARROW GLACIER CAMP (15748FT/4800M).
Elevation change: Hiking time: Estimated distance: Habitat: Moorland/Semi desert. After breakfast you will start your hike towards Lava Tower, a famous landmark on Kilimanjaro. The path is steep and rocky, with views of Mt. Meru, Kilimanjaro's little sister, punching her peak through the clouds. From Lava Tower you turn towards the Western Breach, a steep climb to Arrow Glacier camp (15748ft/4800m). This is taxing and symptoms of altitude sickness might become noticeable. The campsite is spectacular. Vegetation has now all but disappeared, leaving only rock and screen in varying shades of brown and black. The campsite is very cold and you need to be prepared.
ARROW GLACIER (4800 M/15748 FT.) - CRATER (5700 M/18700FT.)
Elevation change: Hiking time: 5 hours Estimated distance: About 15 km's Habitat: Semi desert/ Snowfields. Breakfast at the camp; continue to scramble up the Class 2 trail on rocks towards the Western Breach to the Crater (5700m). At the campsite, you have the option of completing a day hike to the infamous Ash Pit (1.5 hour) of Mt. Kilimanjaro. The ash pit is 340m across and 120m deep. After hiking, you will enjoy a warm dinner and be one of the few and fortunate hikers to stay at the inner, snow-covered crater of Mt. Kilimanjaro.
SUMMIT ATTEMPT; CRATER (18700FT/5700M) TO UHURU PEAK (19341FT/5895M) TO MWEKA (10171FT/3100M).
Elevation change: Hiking time: 2 hours to reach Uhuru Peak, 7-8 hours to descend to Mweka. Estimated distance: Habitat: Stone scree and ice-capped summit. You will rise around 2200hrs, and after some tea and biscuits you shuffle off into the early morning darkness. From the crater floor you will probably encounter snow all the way on your 2-hour ascent to Uhuru Peak. Time spent on the summit will depend on the weather conditions. Do not stop here for too long, as it will be extremely difficult to start again due to cold and fatigue. Enjoy your accomplishment and a day to remember for the rest of your live. The walk to Barafu camp from the summit, takes about 3 hours. Here you will have a well earned but short rest, before heading down to Millennium camp (10171ft/3100m). The route is not difficult and will take you down the rock and scree path into the moorland and eventually into the forest. The camp is situated in the upper forest and mist or rain can be expected in the late afternoon
MWEKA CAMP (10171FT/3100M) - MWEKA GATE (6496FT/1980M).
Elevation change: Hiking time: 3hours Estimated distance: About 15 km's. Habitat: Montane Forest After an early and well-deserved breakfast, it is a 5-hour, scenic hike back to the Park gate. At Mweka gate you sign your name and details in a register. This is also where successful climbers receive their summit certificates. Those climbers who reached Stella Point (18652ft/5685m) are issued with green certificates and those who reached Uhuru Peak (19341ft/5895m) receive gold certificates. Sopai Safaris Vehicles will be waiting at Mweka Gate to take you back to Arusha in our affiliated Hotels.
PEAK: JUN, JUL, AUG
HIGH: SEP, OCT, DEC, JAN, FEB
LOW: NOV, APR, MAR, MAY