KILIMANJARO CLIMBING MARANGU ROUTE
This is definitely the easiest and probably the most popular route for climbing Mount Kilimanjaro. It's often called coca cola route because this is the only one where climbers can buy soft drinks and snacks at each stop on the way up.
You can do Marangu in 5 or 6 days, and just as with the other routes, people tend to have a much greater rate of success if they choose the longer option. Having that extra day on the mountain to acclimatize can make the summit on that final grueling day. All the routes require camping in a tent except Marangu route where you will sleep in a huts and make for a much different experience.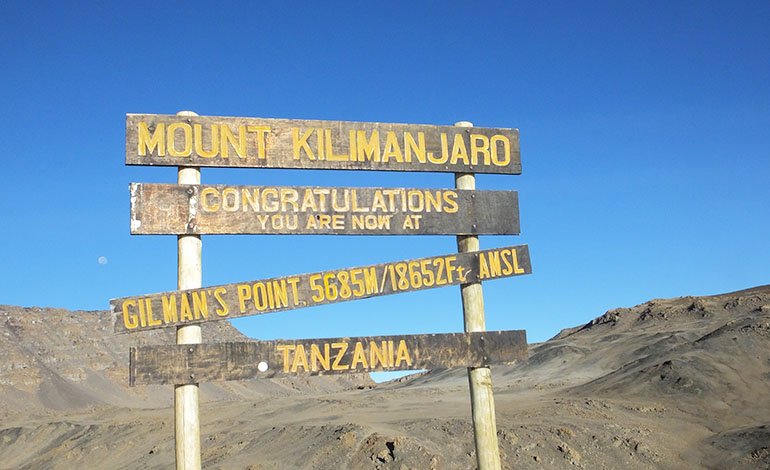 MARANGU GATE (1,800M/5,905FT) TO MANDARA HUT (2,743M/9,000FT)
Elevation Gain: 915 m/3,000 ft Climbing Time: 5hrs Distance: 12kms Habitat: Montane Forest Depart Arusha around 0800hrs to Marangu Gate for Mountain Climbing Registration. After completing registration, begin your climbing by walking along a narrow trail through the Montane Rainforest. Lunch at Kisambioni Picnic Site, day one's halfway point. After Picnic Lunch carry on walking through the rainforest until reaching Mandara Hut. Relax for the rest of the day or take a short walk to Maundi Crater. The views to the east over Taveta and to the northwest to Mawenzi Peak are spectacular on a clear day, making the short hike well worth the effort.
MANDARA HUT (2,743M/9,000FT) TO HOROMBO HUT (3,720M/12,200FT)
Elevation Gain: 977 m/3,200 ft Climbing Time: 6 hrs. Distance: 15 kms Habitat: Moorland After breakfast, depart Mandara Hut to Horombo Hut. Most of the day's hike will be through Kilimanjaro's moorland, a rocky landscape with desert-like plants. Lunch at Kambi ya Taabu Picnic Site before proceeding to Horombo Hut. If the weather is clear, enjoy stunning views of Mawenzi and Kibo peaks. Arrive at Horombo Hut at around 1500 hrs and spend the rest of the afternoon relaxing.
HOROMBO HUT (3,720M/12,200FT) TO MAWENZI HUT (4,600M/15,100FT) TO HOROMBO HUT (3,720M/12,200FT)
Elevation Gain and Loss: 880 m/ 2,900 ft Climbing time: 3 hrs up and 1.5hrs down Distance: Habitat: Moorland Day three is an Acclimatization Day. We recommend hiking all the way to Mawenzi Hut to allow for Maximum Body Acclimatization. The trek will increase your chances of conquering Uhuru Peak, and also reward you with splendid views of Kibo. Return to Horombo for a late lunch. Spend the afternoon and evening relaxing at Horombo village of huts perched on a small plateau, with buildings similar to Mandara, but with a total capacity of 120 climbers! Horombo is normally bustling with hikers, guides and porters, with an atmosphere of adventure and excitement.
HOROMBO HUT (3,720M/12,200FT) TO KIBO HUT (4,750M/15,580FT)
Elevation Gain: 1,030 m/ 3,380 ft Climbing Time: 6hrs Distance: 15kms Habitat: Alpine Desert After breakfast, leave Horombo Hut, climbing through the moorland and alpine desert of Kilimanjaro's upper altitudes. After climbing for about an hour arrive at Maua River, a small mountain stream. After Maua, the terrain becomes flatter and the vegetation begins to disappear. Picnic lunch at Middle Red Hill. After lunch, proceed on a steady incline for another two hours through Kilimanjaro's Saddle. Although the environment on the way to Kibo is a bleak desert with little vegetation, you will see many stunning views of Kibo and Mawenzi peaks. Reach Kibo Hut around 1500hrs to rest and prepare for your midnight climb.
HOROMBO HUT (3,720M/12,200FT) TO MARANGU GATE (1,800M/5,905FT)
Elevation Gain: 1,145 m/3,760 ft Elevation Loss: 2,175 m/7,140 ft Climbing Time: 8hrs to Uhuru, 6hrs descent to Horombo Distance: 6kms ascent, 21kms descent Habitat: Stone Scree and Ice-Capped Summit Around midnight, awake for the final ascent to Uhuru Peak. The climb starts with a demanding five hours to Gillman's Point on the crater rim. Although this is considered to be the easiest of the three crater ascent paths, it is still extremely difficult. The first major rest stop, William's Point, lies at 5000 meters and is approximately a two hour climb Kibo Hut. Continue on for thirty minutes before beginning the rocky switchbacks that will continue to Gillman's Point (5,681 meters). The climb from Gilman's to Uhuru Peak is a gradual climb and as far as hikes go, not very difficult. The altitude, however, makes the hike long and tiring. The crater rim hike takes approximately two hours. Upon reaching Uhuru, take photos of your guide and group at the peak before beginning the descent to H
HOROMBO HUT (3,720M/12,200FT) TO MARANGU GATE (1,800M/5,905FT)
Elevation Loss: 1,920 m/ 6,295 ft Climbing Time: 6hrs Distance: 27kms Habitat: Moorland to Montane Forest After breakfast, descend to Marangu Gate where you will be awarded Certificate for the successful climb that you have made. Sopai Safaris Vehicles will be waiting at Marangu Gate to take you back to Arusha in our affiliated Hotels.
PEAK: JUN, JUL, AUG
HIGH: SEP, OCT, DEC, JAN, FEB
LOW: NOV, APR, MAR, MAY