5 DAYS ADVENTURE CAMPING SAFARI OPTION 1
This 5-day tour will take you to the most famous National Parks in the Northern Tanzania Circuit. You will explore the Tanzania's wildlife, nature and culture. The safari covers the great Ngorongoro Conservation Area, Tarangire National Park, Lake Manyara National Park, and Serengeti National Park.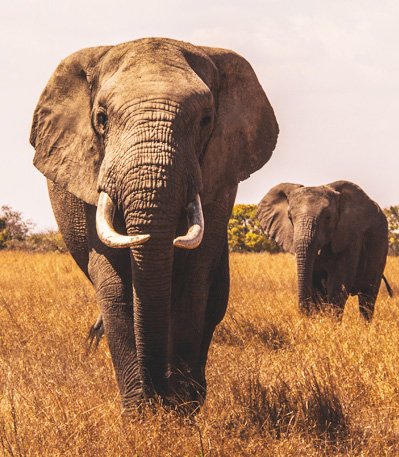 LAKE MANYARA NATIONAL PARK
Distance: 124.9km
Game viewing time: 6 - 7 hours
Non – game-viewing time: 3-4 hours
After a nice breakfast, our drivers will pick you up at 8:30 - 9:00 am with the picnic lunch boxes heading directly to Manyara National park for an extended game drive. Lake Manyara National Park is known for the flamingos that inhabit the lake. During the wet season, they inhabit the edges of the lake in flocks of thousands but they are not so present during the dry season. Leopards, East African lions, cheetahs, elephants, blue monkeys, dik-dik, gazelles, hippopotamus, Masai giraffe, impala, zebras, and many more wild animals inhabit this park and many can be seen throughout the year. There is a hippo pond at one end of the park where visitors can get out of their cars and observe from a safe distance. The leopards and lions are both known to lounge in the trees while not hunting for prey.
Accommodation: Twiga Campsite and Lodges (Breakfast, Lunch, and Dinner)
TARANGIRE NATIONAL PARK
Distance: 50 km
Game viewing time: 6-7 hours
Non – game-viewing time: 2-3 hours
Picked up from the Hotel in Arusha and depart with your naturalist guide for Tarangire National Park. Tarangire is Tanzania's third-largest national park and a sanctuary for an unusually large elephant population. Majestic baobab trees are another interesting feature of the park, dwarfing the animals that feed beneath them. Animals concentrate along the Tarangire River, which provides the only permanent water supply in the area. You may catch glimpses of lions, leopards, and cheetahs.
Accommodation: Twiga Campsite (Breakfast, Lunch, and Dinner)
SERENGETI NATIONAL PARK
Distance: 126 km
Game viewing time: 6 hours
After breakfast, the tour departs between 08:30 - 09:00. After breakfast, your private guide will pick you up from the Hotel and your private safari with private 4x4 safari vehicle starts. The first park visited is Serengeti National Park, via the beautiful high lying farmland of Karatu and the Ngorongoro Conservation Area. Leaving the highlands behind, we descend into the heart of wild Africa – the Serengeti National Park, with its endless plains, rolling into the distance as far as the eye can see. Then head to the central park area, known as the Seronera area, one of the richest wildlife habitats in the park, featuring the Seronera River, which provides a valuable water source to this area and therefore attracts wildlife well representative of most of the Serengeti's species. Arrive in time for lunch and enjoy an evening game drive in the Serengeti national park between 15:00 - 17:00hours.
Accommodation: Serengeti Public campsite (Breakfast, Lunch and Dinner)
NGORONGORO CONSERVATION AREA
Distance: 65.3 km
Game viewing: 6 – 7 hours
An early morning coffee, tea and biscuit for refreshment, then proceed with lunch boxes for early morning game drive between 08:00 - 14:30 hours. Then after, will depart to Ngorongoro Conservation area while enjoying game drive en-route viewing along the way to where you will have dinner and overnight.

Accommodation: Simba Campsite (Breakfast, Lunch, and Dinner)
NGORONGORO CRATER
Distance: 85 km
Game viewing time: 5 – 6 hours
Today, you will be transferred to Ngorongoro Conservation Area after breakfast. Ngorongoro Supported by a year-round water supply and fodder, the Ngorongoro Conservation Area supports a vast variety of animals, which include herds of wildebeest, zebra, buffalo, eland, warthog, hippo, and giant African elephants. Another big draw card to this picturesque national park, it's dense population of predators, which include lions, hyenas, jackals, cheetahs and the ever-elusive leopard, which sometimes requires a trained eye to spot. We will visit Lake Magadi, a large but shallow alkaline lake in the southwestern corner, which is one of the main features of the crater. A large number of flamingos, hippos, and other water birds can usually be seen here.
Later on, will follow the transfer back to Arusha City.

****************END OF TOUR****************
Payments Terms and Conditions:
Tour packages are confirmed upon receipt of a 10% deposit of the total cost of the package. Balance payable in full by cash (dollars) upon arrival or 7 days prior to arrival if paid via credit card with a surcharge of 3% or via wire transfer with a surcharge of 4%.
The total price for the above tour package 1 Adult is US $2,341
What to bring:
Appropriate clothing for Safari: A warm sweater and a light jacket as the nights can be chilly at high altitudes
Towels for showering and Personal hygiene toiletries
Mosquito spray
Sun-glasses and Sunscreen lotion
Binoculars for better sighting